A Fall Home Tour at Wild Rose Country Home
Fall has arrived at Wild Rose Country Home...even if the calendar says it's still summer. Actually, it's saying it could snow later on this week. Secretly, I wish I was still basking in those warm sunny days. Anyone who knows me KNOWS I am the biggest fan of all things summer.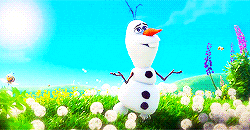 Call me Olaf if you must...I'm smitten with SUUUUUUMMEEEEEEEEEERRRRRRRRR!!!
Alright, so now that I've left my grieving heart on my sleeve, I am 99% ready to embrace all things fall. To get us all excited for the season, let me list my top five favourite fall things:
1- Pumpkin spice everything (of course!).
2- Walking on forest trails on a sunny mild day (15-20c degrees preferably)-- looking at the beautiful foliage and hearing the crunching leaves beneath my feet.
3- Scarves! Big, bulky, plaid, soft, woolly scarves!
4- My Birthday! Yup! This Wild Rose Country Homie is an October baby and it's the prettiest time of year (unless it snows...then it's very sad).
5- Halloween is around the corner! This is when I start planning my couple costume with my hubby. It's an annual tradition and a big deal around here.